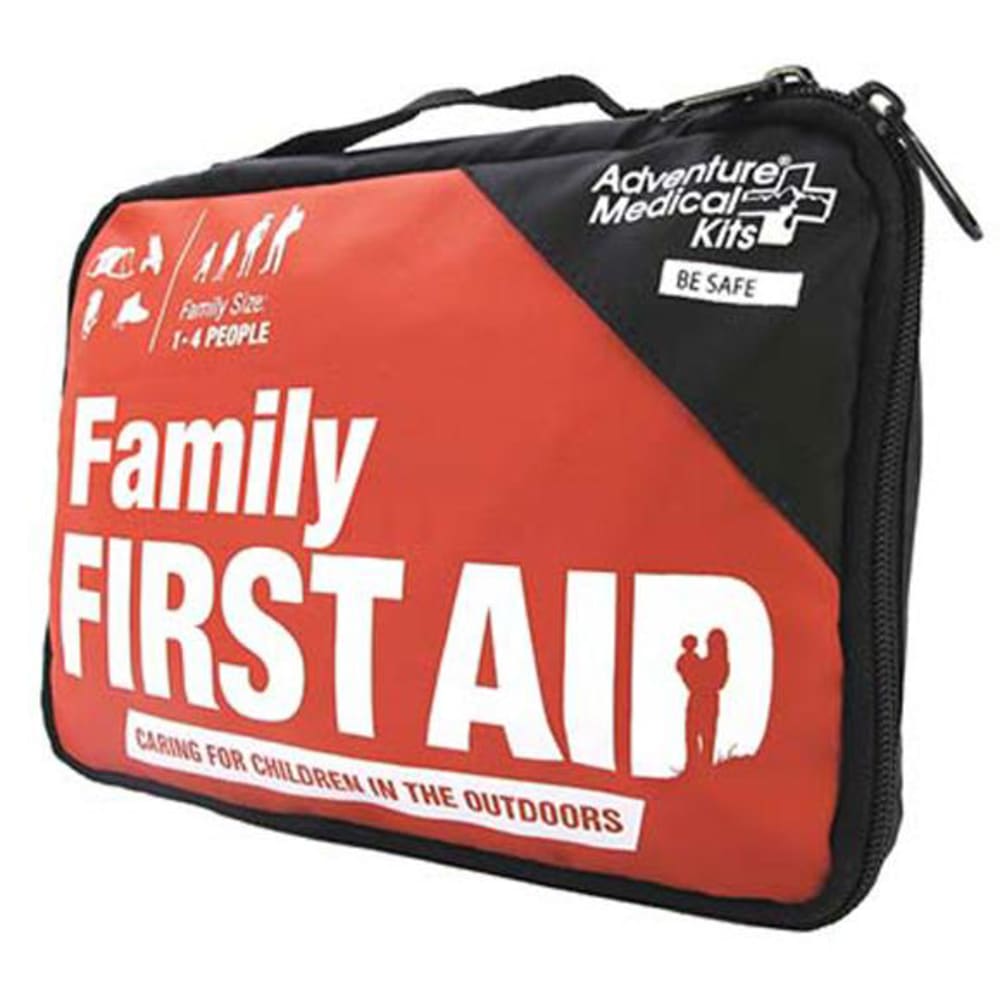 ---
---
---
Description
Designed to be kid-friendly with a wide range of first aid supplies, the Family First Aid Kit also includes Caring for Children in the Outdoors, an updated, comprehensive guide to first aid for those who will be caring for little ones in the outdoors—from picnics at the park to hikes in the wilderness.
Designed for four family members on trips from 1-4 days
Kit includes:
Medical information: updated, new edition of Caring for Children in the Outdoors—covers how to treat sprains, fractures, and dislocations, plus handy guides on how to administer medications and how to dress more serious wounds
Bandage materials: 1 fabric adhesive bandage, 2 x 4.5 in.; 2 sterile, nonadhesive bandages, 2 x 3 in.; 4 fabric adhesive knuckle bandages; 12 plastic adhesive bandages, 3/8 x 1 1/2 in.; 4 butterfly closure bandages; 16 fabric adhesive bandages, 1 x 3 in.; 4 (2 per pkg.) sterile gauze dressing, 4 x 4 in.
Bleeding: 1 pair nitrile gloves, hand wipe
Blister/burn: 1 pre-cut/shaped moleskin (11 pieces)
Fracture/sprain: 1 cold pack, 1 elastic bandage with clips, 2 in.
Instrument: 2 disposable thermometers, 2 safety pins, 1 blunt-tip bandage scissors, 1 splinter picker/tick remover forceps
Medication: 3 (2 per pkg.) acetaminophen (500 mg), 3 antihistamine (diphenhydramine 25 mg), 3 (2 per pkg.) ibuprofen (200 mg)
Other 2 Natrapel 8-hr. Tick/Insect Repellent Wipe, 1 Kids' After Bite tube
Wound care: 1 tape, 1/2 in. x 10 yards; 4 single-use triple antibiotic ointment; 12 After Cuts & Scrapes Antiseptic Wipes; 1 (2 per pkg.) cotton-tip applicator
Added bonus: includes a handy kit-within-a-kit that can be pulled out and stashed in a pocket, stroller, or diaper bag
Kit size: 6 x 8.5 x 3 in.; weight: 1 lb. 1 oz.
Attributes
Country of Origin
Imported
Style Number
1309386
Product SKU
26935900020
Shipping & Returns