---
Can't find hiking boots or trail runners that fit precisely and hold up through your adventures? Rather than go through pair after pair, never finding an exact match, take advantage of Eastern Mountain Sports' longest-running in-store service.
Over 10 years ago, EMS created the Foot Guru Program to provide customers with the most comprehensive footwear fitting and purchasing experience in the outdoor industry. Available at all locations, the Foot Guru is a store employee trained by both in-house staff and vendor partners to be an expert in fitting techniques, our full footwear assortment, and emerging industry technologies. EMS Foot Gurus combine training, knowledge, and experience to ensure you leave with shoes and accessories custom-fitted to your needs, so you have a solid foundation for your next adventure.
After checking our store finder, set up an appointment today with your local EMS Foot Guru, and take the first step to finding your perfect fit!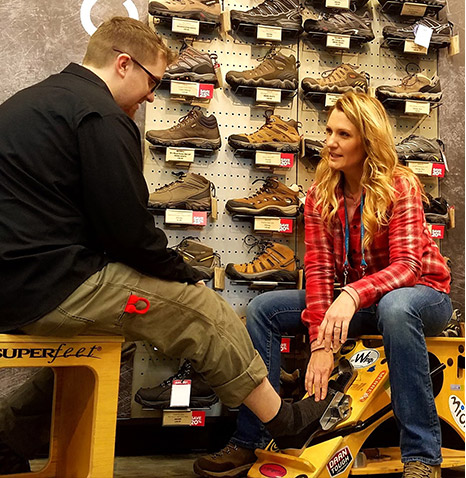 BEFORE YOU BUY
1. DON'T WAIT UNTIL THE LAST MINUTE
Purchase your new footwear several weeks before extensive use.
2. TRY ON YOUR FOOTWEAR LATER IN THE DAY
This is when your feet reach maximum size, so it's best to buy shoes in the afternoon
3. RESPECT YOUR SOCKS
When trying on any new footwear, make sure you wear:
A thick sock if your feet are narrow.A thin sock if your feet are wide.
MAKE SURE YOUR NEW SHOES PASS THE FIT TEST:
Tap your heel back into the heel cup, and lace the boot, so it feels snug but not too tight. Your toes should be free to wiggle without feeling cramped.Tap your toe on the floor. Your toes should not touch the front of the boot, even on impact. The heel of the boot should fit snugly with minimal heel lift. Check heel lift by rising up on your toes. Excessive lift may be corrected with a combination of insoles, thicker socks, and alternative lacing techniques Always make sure the boot flexes when your foot does. The ball of your foot should line up with the widest part of the boot.

BE SURE YOUR SHOES FIT YOUR ACTIVITY AS WELL AS YOUR FOOT.
Weather, temperature, terrain, and pack weight are important factors.
SHOP THE WAY YOU WANT
online ems.com | phone 1-203-379-2233 | IN-STORE
AFTER YOU BUY
LACING ALTERNATIVES FOR LOW-CUT BOOTS AND TRAIL SHOES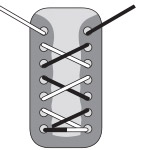 HIGH INSTEP AND OR HIGH VOLUME
THIS PATTERN INCREASES SPACE FOR YOUR INSTEP AND ALLEVIATES DISCOMFORT ON THE TOP OF YOUR FOOT.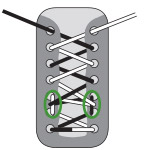 LOW VOLUME AND/OR NARROW FOOT
IF YOUR FOOT SLIDES AROUND, A LACE LOCK AT THE BOTTOM OF THE BOOT ELIMINATES EXCESS VOLUME.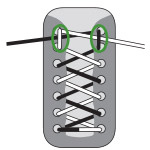 HEEL SLIPPAGE
IF YOUR HEEL SLIPS, A LACE LOCK AT THE TOP OF THE BOOT PULLS THE BOOT HEEL CLOSER TO YOUR FOOT.
LACING ALTERNATIVES FOR HIKING AND MOUNTAINEERING BOOTS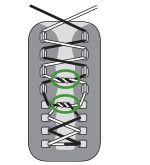 HIGH INSTEP AND/OR HIGH VOLUME
THIS PATTERN EASES DISCOMFORT FROM TOO MUCH PRESSURE ON THE TOP OF THE FOOT.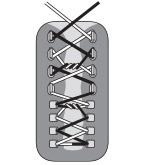 LOW VOLUME AND/OR NARROW FOOT
THIS PATTERN REDUCES FOOT SLIPPAGE WITHOUT HAVING TO OVERTIGHTEN THE BOOT.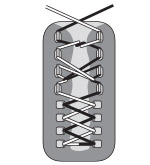 HEEL SLIPPAGE
PASSING THE LACING THROUGH ITSELF BETWEEN TWO HOOKS WILL STOP YOUR HEEL FROM SLIPPING.