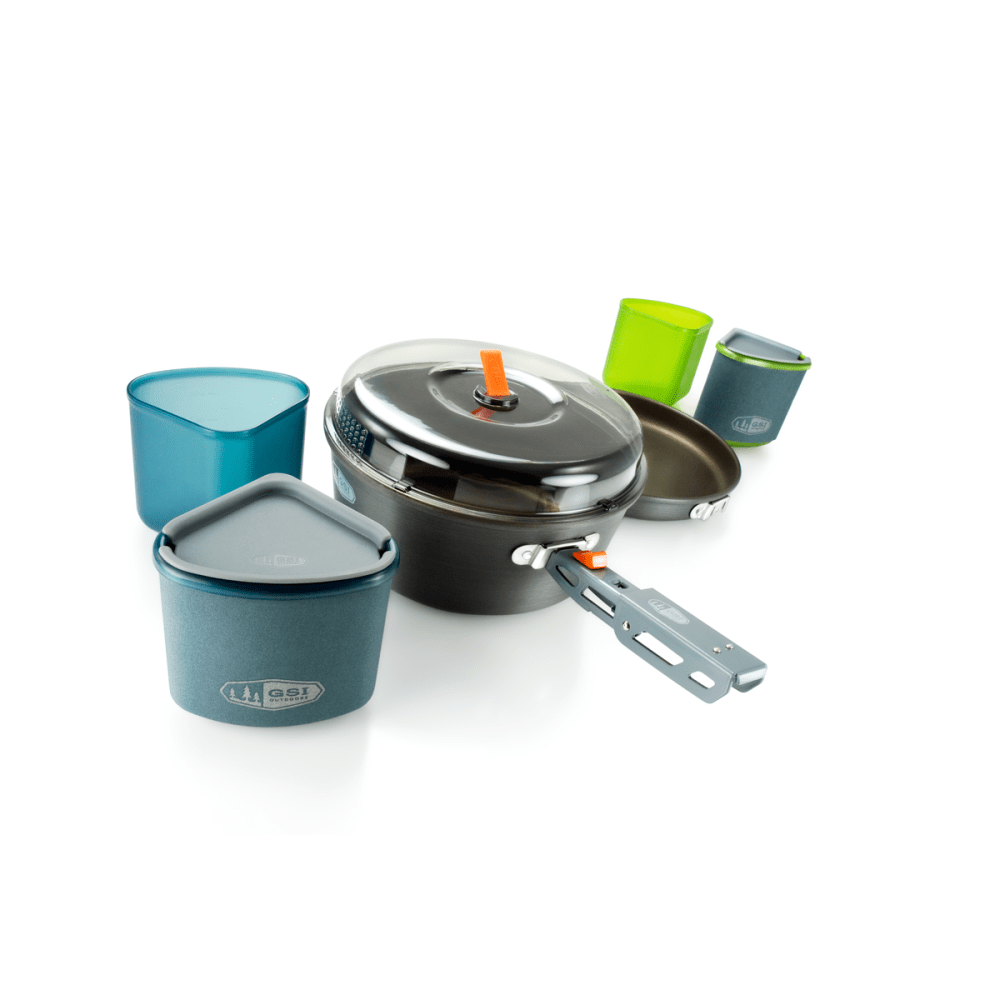 ---
---
---
Description
With its amazingly compact design, GSI's Pinnacle Backpacker is the ultimate integrated cooking and eating solution—it's fully equipped for the needs of two gourmet backpackers.
Teflon cookware with Radiance technology made from nonstick, coated hard-anodized aluminum:
~ Tested and approved expressly for campware use
~ Specially formulated topcoat to enhance heat dispersion and eliminate hot spots
~ Three-layer coating for unprecedented level of scratch and abrasion resistance
Infinity color-coded items (bowls and mugs) made from ultralight BPA-free clear polypropylene:
~ Will not absorb odors or leach plasticizers or other chemicals into food or beverage
~ Strong in both hot and cold temps
~ Dishwasher-safe (become more stain-resistant with every wash)
~ Colors provide personalized tableware settings
Exclusive folding gripper locks onto exterior brackets to prevent scratching and to provide a secure handle while cooking
Crushproof, heat-resistant strainer lid and silicone ring will not deform in packs—works with either the pot or fry pan
Rugged, welded stuff sack holds set for storage/transport and doubles as a sink or wash basin
Unique design compacts for nested storage
Includes:
~ 2 L pot, 8 in. fry pan, strainer lid (made from Teflon with Radiance)
~ Two (2) each: 14 oz. insulated mugs, 14 fl. oz. bowls, sip-it tops (made of Infinity polypropylene)
~ Folding pot gripper; welded stuff sack (doubles as a sink/wash basin)
Dimensions: 8.20 x 8.20 x 5.40 in.
Weight: 1 lb. 12.8 oz.
Attributes
Weight
1 lb. 12.8 oz.
Country of Origin
Imported
Style Number
1309787
Product SKU
26946600015
Shipping & Returns