---
At any given time, you will find a huge selection of daypacks on ems.com. But which pack is right for you? Depending on how much you plan on carrying and for how long, the answer can be as simple as which style you like best, or as complex as waist belt configuration. Here are a few thoughts and suggestions to simplify your buying decision.
WHAT IS A DAYPACK?
Daypacks are the smallest of the backpack family, typically measuring between 1200 and 2500 cubic inches (~20 to 40 L). Unlike larger overnight backpacks, daypacks do not have an internal frame and are designed to carry loads of no more than 20 to 25 pounds. Many daypacks have been specialized for a particular activity or to carry specific gear.
WHEN IS A DAYPACK USED?
As its name implies, a daypack is used for activities that require carrying a day's worth of gear. These activities range from things like hiking or climbing to things like commuting, travel, or school. If you're shopping for a daypack on our website, refer to the Primary Use spec on the product pages to make sure that the pack you're considering is suitable for your intended activity.
Daypacks for Hiking
For hikes lasting two to six hours, plan on carrying water, a lunch, and possibly extra clothing, depending on the weather. HIKING DAYPACKS should have padded shoulder straps as well as a sternum strap that reaches across the chest to stabilize the pack.
Recommended size depends on what you carry. Typically 2000 cubic inches (~33 L) suffices for most day hikes. If carrying gear/clothes/food for others, you may need to graduate to a midsize backpack (2500 to 3000 cubic inches / ~41 to 50 L).
Daypacks for Climbing
These specialty packs should be narrow and streamlined with a minimum of exterior pockets. The waist belt should be removable or not there at all. The fewer things that can inhibit your mobility or get caught on things, the better.
Again, sizing depends on how much gear you'll actually be carrying. If you only need enough space for shoes, chalk bag, and water/snacks for an afternoon bouldering session, a smaller pack will do. But if you're heading out for a day of sport climbing, you'll obviously need something larger.
Daypacks for School, Commuting, or Travel
Kids and teenagers shouldn't be carrying more than 10% - 15% of their body weight on their back. Anything more can invite back problems that last into adulthood. This means a 70 lb. child should carry a maximum of 10 pounds, while a 100-pound teenager should keep the load below 15 pounds. As such, it's a good idea to keep the pack's volume to a minimum. If the extra space isn't there, it's not going to get filled.
Arguably, the most important feature to look for in a daypack for these less "outdoorsy" pursuits is an internal padded sleeve to protect your laptop or tablet. The sleeve should be the correct size for your laptop and be padded on at least one side as well as the bottom. Organizer panels are also particularly useful for keeping pens/pencils, your phone, keys, and other small items easily accessible.
DAYPACK SIZING AND FIT
Having the right size daypack is just as important as having the right full-size backpack. And, just like their larger counterparts, daypack volume is measured in two ways—cubic inches and liters.
Liters-to-Cubic Inches Conversion
Here's a chart to help you quickly see the correlation between liters and cubic inches. Remember that daypacks fall within the 1200 to 2500 cu. in. / 20 to 40 L range.
Liters (L) : Cubic Inches (in³) 10 : 610 15 : 915 20 : 1220 25 : 1526 30 : 1831 35 : 2136 40 : 2441 45 : 2746 50 : 3051 55 : 3356 60 : 3661 65 : 3966 70 : 4272 75 : 4577 80 : 4882 85 : 5187
Daypack Fit
Daypacks are typically unisex and will fit almost any adult, though a few are specifically made for women or kids. Make sure you don't wear the pack too high or too low—if the bottom of the pack is about two inches above your waist, then it's just right—and don't carry it by only one shoulder strap.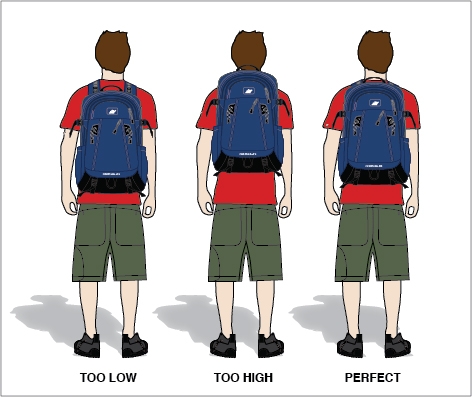 Recommended Daypack Volume
Packs measuring between 1500 and 2100 cubic inches (24 to 34 L) are plenty big enough for hauling your stuff around school or campus. Hiking packs can be almost any size, but if you choose one that's at least 1900 cubic inches (31 L), you'll have enough capacity to handle most situations short of overnight camping.
DAYPACK FEATURES
When you start looking at daypacks, either in the store or on ems.com, you'll notice that many of them have all sorts of extra features. Here's a list of the bells and whistles you'll most commonly find on—or in—daypacks:
Laptop/Hydration Sleeve
Many daypacks have a sleeve on the inside backpanel that can be used for either a laptop or a water reservoir. If you'll be using your pack primarily for work or school and need to carry a laptop, opt for a pack that has a sleeve with some additional padding to keep your computer safe.
Side Pockets
Side pockets come in various forms—some are made of stretchy mesh, some are nylon and have zippers; some are big enough for water bottles, some are not. Use the side pockets to hold things that you might want to get at quickly, without having to dig through everything else in the main compartment.
Bungees
Lots of daypacks now incorporate bungees on the front. This offers a perfect place to stash an extra layer, like a hoodie, lightweight fleece, or rain jacket.
Side Straps
Daypacks on the larger end of the size spectrum will often have compression straps on the side. These help minimize pack volume when it's not completely full, but can also be used to hold things like trekking poles on the outside of the pack.
Organizer Panel
Pretty much any daypack that consists of more than just one big compartment will have an organizer panel in one of its smaller compartments. Sometimes it may just be a few small sleeves to hold some pens, but sometimes it will also include a cell phone-sized pocket and a larger sleeve or two. More often than not, you'll also find a key clip so you won't have to worry about losing your keys to the depths of your pack.
BEYOND DAYPACKS
By using bungee cords and other creative packing methods, you could load the world onto a daypack, but your back and shoulders would never forgive you. A daypack's suspension is designed to carry only so much. For loads of 20 pounds or more, think about investing in a FULL-SIZE BACKPACK that includes a solid frame and a well-padded waist belt designed to transfer the pack's weight to your hips.