Beer and Gear to Support the Catskills Eastern Mountain Sports Partners with West Kill Brewing
---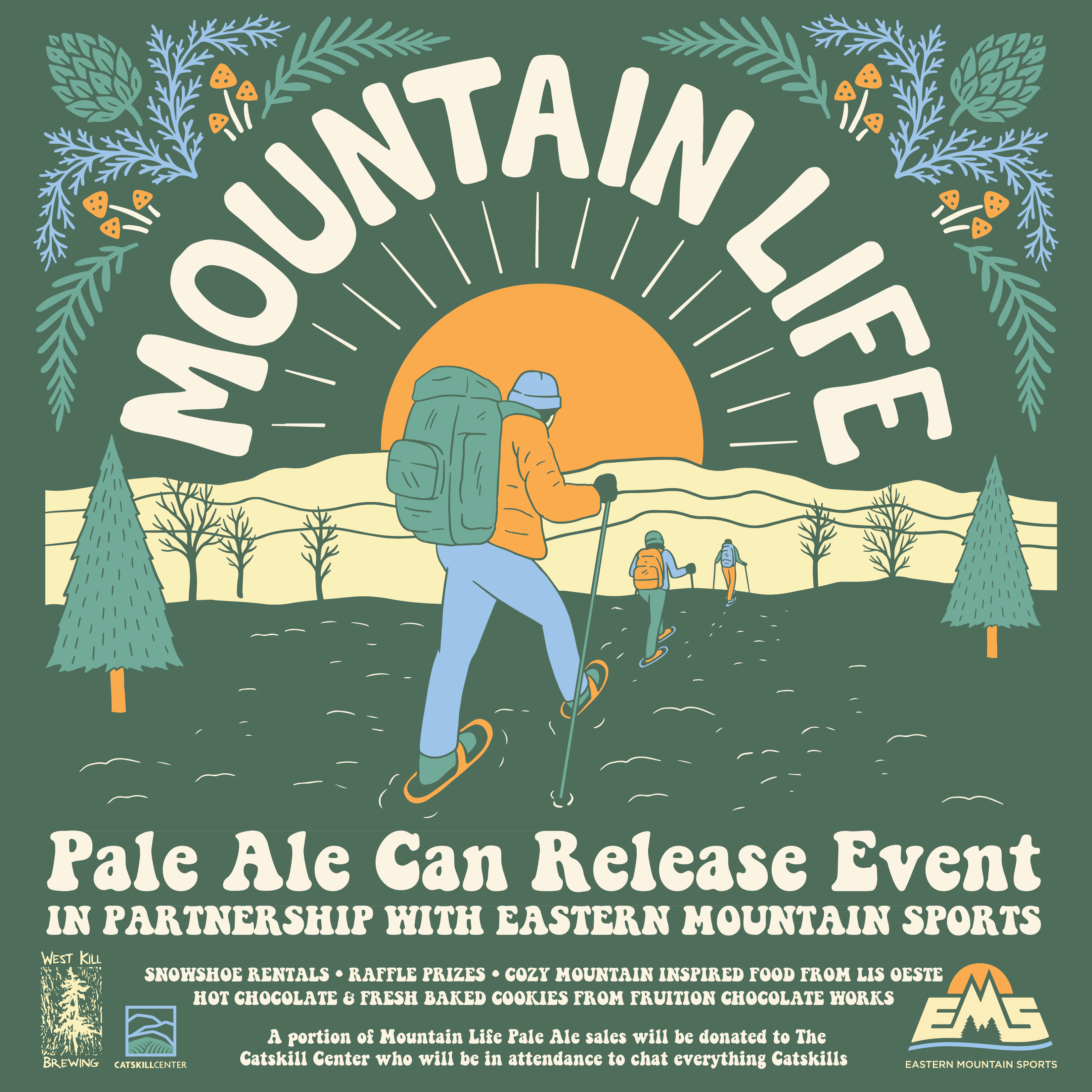 West Kill, NY – On February 5, 2022 Eastern Mountain Sports and West Kill Brewing will be hosting a beer release event in support of the Catskill Center. The event, highlighting "Mountain Life," a collaboration brew between the two brands, will give proceeds to the over 50-year-old nonprofit through gear raffles, snowshoe rentals, and beer purchases.
The Catskill Center's mission is "to protect and foster the environmental, cultural and economic well-being of the Catskill region." Since 1969, it has led the effort to protect the more than 700,000 acres of the Catskill Park and Catskill Forest Preserve. Representatives of the Catskill Center will be present at the event to discuss their work— for more information, visit
catskillcenter.org.
West Kill Brewing, located on a 127 acre historic dairy farm in the heart of the Catskills, focuses on locally grown and foraged ingredients. The collaboration brew will aim to celebrate their deep commitment to the area— "to its mountains, to its people, to its heritage, to its future"— with a portion of the proceeds going to the Catskill Center. The collaboration brew will be available at the event with limited batches being available for purchase both at the brewery and designated NYC-area distributors. To learn more, visit
westkillbrewing.com.
"Working with West Kill is a perfect fit for us," says Ellen Estabrook, Brand Manager at Eastern Mountain Sports. "Their commitment to and involvement with the Catskill region and preservation at-large is a perfect opportunity for the EMS community to come out, support craft beer and the Catskills, and have a good time doing it. Representatives from our climbing school will also be at the event to talk adventure and rent snowshoes for visitors to take out for the day on nearby trails."
Eastern Mountain Sports was established in 1967 and operates over 20 locations in seven northeastern states, with four locations in New York. Eastern Mountain Sports Schools, offering guided adventure ranging from group hikes, to kayaking, to ice climbs, has a location in nearby Gardiner. For more information, visit
ems.com
and
emsoutdoors.com.