EASTERN MOUNTAIN SPORTS JOINS 1% FOR THE PLANET GLOBAL NETWORK AND ANNOUNCES RETURN TO VERMONT MARKET AS EXPANSION AND GROWTH PLANS CONTINUE
---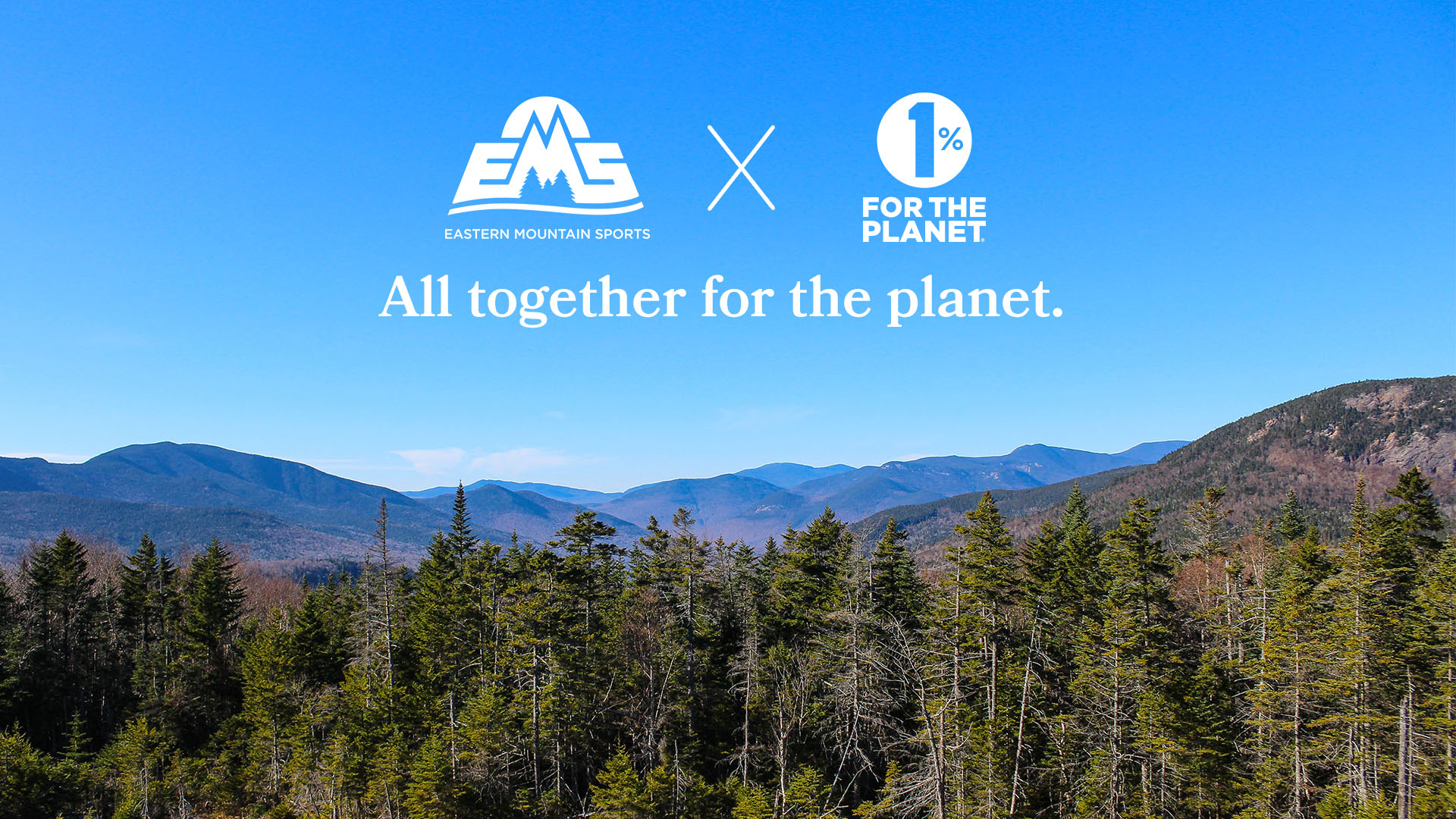 Retailer Pledges to Support Environmental Causes; Demonstrates Continued Growth with Opening of Flagship Store in Burlington, VT
MERIDEN, CT – May 9, 2023 – Eastern Mountain Sports (EMS), a business unit of GoDigital Media Group and the most trusted source for outdoor apparel, gear and guidance for outdoor adventurers, is reinforcing its commitment to the environment by aligning with the global non-profit organization 1% for the Planet. As part of this alliance, EMS is pledging 1% of its annual revenue of EMS Brand product sales to support environmental causes. On the heels of this partnership, EMS also announced today its return to Vermont with the opening of its new flagship store in Burlington, VT.
EMS Joins 1% For the Planet
"As a company committed to inspiring happiness by connecting people to the outdoors, 1% for the Planet is a natural fit for the mission-driven approach of Eastern Mountain Sports. Preserving and protecting the outdoors for ourselves and future generations is critical," said Dave Barton, President and CEO of Eastern Mountain Sports.
The 1% for the Planet global movement aims to inspire businesses to support environmental solutions through annual memberships and everyday actions, while 1% for the Planet certifies all member donations. To-date, members have given over $435 million in environmental solutions through the network.
"Currently, only 3% of total philanthropy goes to the environment and only 5% of that comes from businesses. The planet needs more support than this, and our growing network of business members is doing its part to increase giving and support on-the-ground outcomes. We're excited to welcome Eastern Mountain Sports to our global movement," said Kate Williams, CEO of 1% for the Planet.
EMS will officially become a member of the 1% for the Planet network on April 30, 2023. From that date forward, 1% of all revenue from EMS Brand product sales will automatically be contributed to environmental causes. Look for the 1% logo to purchase for the planet and learn more at
www.onepercentfortheplanet.org
.
New Burlington, VT, Flagship Store
"The return of Eastern Mountain Sports in Vermont demonstrates the momentum of the brand and our commitment to growing it," said Jason Peterson, Chairman and CEO of GoDigital Media Group, the parent company of EMS. "Despite the challenges facing the retail industry, we continue to invest in Eastern Mountain Sports by opening more brick-and-mortar stores and expanding our national ecommerce store to make it easier for people to find the gear they need to enjoy adventure outdoors."
With its focus on connecting people to nature and one another by offering education, sharing expertise and making quality, affordable outdoor gear more accessible, EMS is a retail brand poised for continued growth. Furthermore, the brand aligns with the core values of its customers by prioritizing the environment and supporting organizations and causes that will protect the planet today and for future generations. Over the past year, GoDigital Media Group has continued to open new EMS locations and doubled-down on its online growth, with a half-dozen new stores in the pipeline to open in the coming months.
The new EMS flagship store in Burlington held its grand opening from April 21-23, 2023. Outdoor recreationalists of all ages are invited to visit the store and explore the wide array of apparel and gear, as well as expertise from the EMS team to help plan their next adventure. The 13,518-square-foot two-level EMS flagship store is located at 59 Garden Street, South Burlington, VT.
For more information about Eastern Mountain Sports, its array of outdoor apparel and gear, or to find a location, visit
www.EMS.com
.
About Eastern Mountain Sports
Eastern Mountain Sports is the premier outdoors retailer focused on inspiring happiness by connecting people with nature and each other. Founded in 1967, the company has over 50 years of heritage in providing quality, affordable gear to nature enthusiasts of all ages, and a rich history of supporting causes that protect and preserve the outdoors. With over 20 locations throughout the Northeast and a national ecommerce store, Eastern Mountain Sports is committed to ensuring adventure is accessible to all. To learn more about our commitment, values and products, visit www.ems.com. Eastern Mountain Sports is a subsidiary of GoDigital Media Group, a multinational conglomerate dedicated to inspiring happiness by connecting community, content, and commerce across consumer passion points.
About 1% For the Planet
1% for the Planet is a global organization that exists to ensure our planet and future generations thrive, inspiring businesses and individuals to support environmental nonprofits through membership and everyday actions with an aim to make environmental giving easy and effective through partnership advising, impact storytelling and third-party certification. Started in 2002 by Yvon Chouinard, founder of Patagonia, and Craig Mathews, founder of Blue Ribbon Flies, members have given over $450 million to environmental partners. Today, 1% for the Planet's global network consists of thousands of businesses and environmental partners working toward a better future.
MEDIA CONTACT
Debbie Ehrman
[email protected]